DWA1100 Truck Trolley
The innovative mobile wheel alignment system for trucks
Thanks to the mobile structure with pivoting wheels it can be easily positioned on board the vehicle thus optimizing the spaces inside the workshop. The system is managed via toughpad, with Windows 10 operating system, which ensures optimal ease of use by eliminating the encumbrance of the PC and allowing the operator to work comfortably even under the vehicle.
Structure

The mobile structure with pivoting and rubber wheels of 100 mm diameter allows smooth movement on any type of flooring. The addition of brakes on two of the wheels
prevents accidental movement of the trolley during work operations.
The extremely compact cabinet is easily transportable and allows to work comfortably even under the vehicle.
The supports mounted on the cabinet hold targets and clamps and act as a recharge point for the CCDs and the toughpad.

Toughpad

The software is managed by toughpad with a 10″ touch screen and an extremely robust, waterproof and dust-proof structure with a rubberized cover breaking proof.
The toughpad supports the Windows 10 operating system and Wi-Fi connection, thus ensuring optimal ease of use even during operation under the vehicle.

Software

Features very clear and userfriendly graphics. The software system, entirely developed by CEMB, guides the user through all the alignment operations. The software allows the adjustment two axles in one screen and provides a step by step procedure up to 7 axles, as well as a 2 measuring heads mode quick measurement of front axle. Complete with AUDIT function for the identification of driving problems, resulting from measures not contemplated in the specifications to support the regulation service.

CCD Sensors

CCD (Charged Couple Device) sensor technology, featuring state-of-the-art electronic components enables a quick and accurate measurement of all alignment parameters by simply following a procedure field tested through many years of experience.
Sensors mount lithium batteries, featuring a long durability when batteries are charged. The batteries are immune to the "memory effect" and can be rechared at any time.
Together with the CCD cameras, the MEMS accelerometer (derived from the aeronautical field), provides the acquisition of the alignment parameters of wheels. It measures the sensor inclinations accordng to the two main axles (caster and camber).

Database

The new vehicle model ranking system allows a rapid and clear selection of the different vehicles.
| | |
| --- | --- |
| Power supply | 230 VAC single-phase 50/60 Hz | 115 VAC single-phase |
| Net weight | 30 Kg |
| Package dimensions | 113 x 113 x 113 |
Toughpad
Toughpad with 10″ touch screen with Windows 10 operating system. Extremely rugged structure, waterproof, dust-proof and breakingproof.
Clamps
Four 4-point clamps 12″-24″.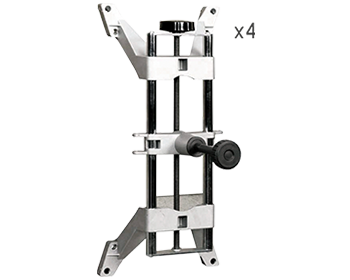 Truck Measuring Heads
Four truck measuring heads with Lithium batteries, 8 CCD sensors, BT2 technology.
Metal grips
16 universal metal grips 120mm for truck and bus wheels.
Steering lock
Steering lock.
Brake pedal lock
Brake pedal lock
Clamp extensions up to 30″
Extensions to increase the operating diameter up to 30".
Clamping arms kit
Clamp supporting arms and set of tips for tyres with external diameter 22″ – 31″
50″ Supporting arms extension
Extended clamp supporting arms for truck and bus tyres up to 50".
Truck turnplates
Two truck turnplates, capacity 4500Kg, diameter 40cm, height 5.5cm, nylon spheres
Calibration kit
Calibration kit complete with spirit level to calibrate measuring heads
Backup cables
Set of 4 feeding cables for recharging batteries when measuring heads are mounted on vehicle (13m length)
Adaptor rod for semitrailers' king pin
Aligner rod for semi-trailers
Ramps for Truck turnplates
Ramps for truck turnplates
Grips for steel rims
Set of 4 metal grips for clamping on steel rims from the inside (also useable as adapters for others tips and grips).