DWA1100 Hybrid light
Wheel alignment system for cars and trucks - only the "essential"
Wheel alignment system for cars, light commercial vehicles, trucks and buses.
The light version differs respect to the complete version, as only the essential components for alignment are supplied. From an economic point of view, this is te ideal solution to allocate this technoloy even to customers who, fpr the first time wish to carry out wheel alignment and containing investment costs.
CCD (Charged Coupled Device) sensor technology, featuring state-of-the-art electronic componentry, enbles a quick and accurate measurement of all alignment parameters by simply following a procedure field tested through many years of experience.
Database

The new vehicle model ranking system allows a rapid and clear selection of the different vehicles.
The CEMB car database contains more than 55.000 vehicles and more than 50.000 the truck ones. Both are constantly updated.

Lithium Batteries

Featuring a long durability when batteries are charged.
The batteries are immune to the "memory effect" and can be rechared at any time.

Radio communication 2,4 GHz

The radio communication between sensors and computer uses a frequency of 2,4 GHz. This technology features a stable and reliable communication over a lengthy period.
There are 7 different channel communications available which can be useful in cases of multiple installations and/or solving interference problems.

MEMS Accelerometer

Together with the CCD cameras, the MEMS accelerometer (derived from the aeronautical field), provides the acquisition of the alignment parameters of wheels. It measures the sensor inclinations accordng to the two main axles (caster and camber).
The accelerometer has completly substituted the previous pendulum-tipe inclinometers which were very delicate and sensitive to shocks. No more problems due to shocks.

Userfriendly Software

Features very clear and userfriendly graphics. The software system, entirely developed by CEMB, guides the user through all the alignment operations. Complete with AUDIT function for the identification of driving problems, resulting from measures not contemplated in the specifications to support the regulation service.

Electronic control unit

The light version is supplied without a pc. Contact your local distributor for possible options.
| | |
| --- | --- |
| Power supply | 230 VAC single-phase 50/60 Hz | 115 VAC single-phase |
Dotazione standard DWA1100 Hybrid light
Two mechanical turntables for car.
2 car measuring heads  and 2 truck measuring heads with Lithium batteries, 8 CCD sensors, BT2 technology, Four 4-point clamps 12″-24″ c/w universal grips, L=80mm + metallic grips with reference surface, L=48mm, L=120mm.
Brake pedal lock and steering lock.
Wheel alignment software and database for cars and light vehicles.
Clamp extensions up to 30″
Extensions to increase the operating diameter up to 30".
Grips for steel rims
Set of 4 metal grips for clamping on steel rims from the inside (also useable as adapters for others tips and grips).
Calibration kit
Calibration kit complete with spirit level to calibrate measuring heads
Backup cables
Set of 4 feeding cables for recharging batteries when measuring heads are mounted on vehicle (13m length)
Clamping arms kit
Clamp supporting arms and set of tips for tyres with external diameter 22″ – 31″
Truck turnplates
Two truck turnplates, capacity 4500Kg, diameter 40cm, height 5.5cm, nylon spheres
Adaptor rod for semitrailers' king pin
Aligner rod for semi-trailers
50″ Supporting arms extension
Extended clamp supporting arms for truck and bus tyres up to 50".
40″ supporting arms extensions
Extended clamp supporting arms for tyres up to 40".
Ramps for Truck turnplates
Ramps for truck turnplates
Trolley & wall panel
Couple of wall panels to hang wheel clamps and accessories
Turnplates for car
Two mechanical turnplates for car
Premium Turnplates
Two premium turnplates for car complete with paddles
KIT ADAS CCD
The CEMB KIT ADAS CCD allows positioning of the CCD sensors on any ADAS/ACC calibration structure by means of universal adapters and, through a very quick and simple software included in the alignment program, enables to facilitate the positioning.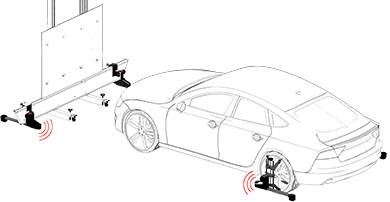 3-point clamps
Set of four 3-point self-centering wheel clamps for rims 12″-23″.